Why should I take my child to the dentist – baby teeth fall out anyway, right?
(And what is the Child Dental Benefits Scheme?)
Take good care of your child's baby teeth.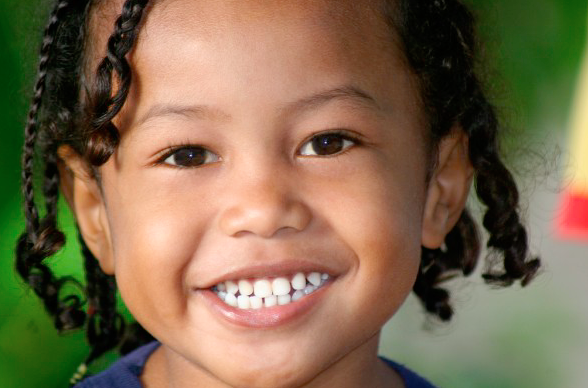 They do eventually fall out but until they do, baby teeth play an important role in helping your child bite and chew food, and speak clearly.
Many of the same treatment and evaluation options that adults have are also available to kids. These include X-rays, dental sealants, orthodontic treatment and more.
Baby teeth are very important to your child's health and development. …
They also hold space in the jaws for permanent teeth that are growing under the gums. When a baby tooth is lost too early, the permanent teeth can drift into the empty space and make it difficult for other adult teeth to find room when they come in.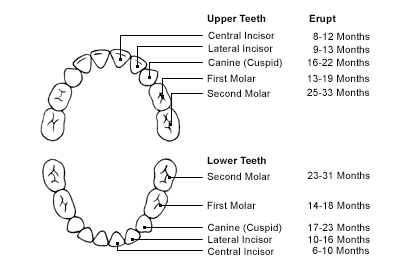 You can start cleaning your baby's teeth by wiping with a soft cloth or brushing with a small soft toothbrush and water. At 18 months start using a smear of low-fluoride toothpaste to brush your child's teeth. Encourage your child to spit out toothpaste after brushing, but not rinse.
What is Baby Bottle Decay and How Can I Prevent It?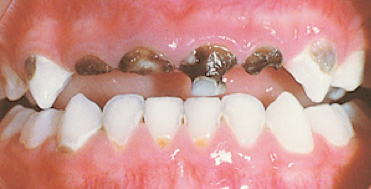 Baby bottle decay is caused by frequent exposure, over time, to liquids containing sugars. These include milk, formula, and fruit juices. The sugary liquids pool around the teeth for long periods of time as your baby sleeps, leading to cavities that first develop in the upper and lower front teeth. For this reason, you shouldn't let your baby fall asleep with a bottle of juice or milk in his mouth. Instead, at naptime, give your child a bottle filled with water or a dummy recommended by your dentist. If you breast-feed, avoid letting the baby nurse continuously. And after each feeding, wipe your baby's teeth and gums with a clean, damp washcloth or a gauze pad.
What is Fluoride and How Do I Know if My Baby is Getting the Right Amount?
Fluoride is beneficial even before your child's teeth begin to erupt. It strengthens the tooth enamel as the teeth are forming.
While most babies don't start getting teeth until they are 6 months old, infant dental care is important from the very beginning. Many dentists recommend an initial visit before the child's first birthday to make sure teeth and gums are cared for and cleaned properly, also to get your child used to visiting the dentist. Make the first visit fun!
Help Prevent Childhood Cavities
At a child's first visit, parents will receive instructions on good oral habits for their child and themselves to reduce oral bacteria in the mouth.
Perhaps most importantly, parents will learn that limiting the intake of fermentable carbohydrates, especially juice and milk, is crucial. It is the frequency of intake of these sugary liquids that correlates with cavities and should be monitored, especially in bottles or cups at bedtime.
As your child grows, a dental health care provider will introduce and reinforce important treatments and habits for preventing decay, tooth loss, and gingivitis. A visit to the dentist will include an exam and thorough cleaning, instruction in proper brushing and flossing, systemic or topical fluoride treatments, and pit and fissure sealants on permanent molars. Fluoride, though important for cavity prevention, should be limited by age and amount to prevent overexposure. The dentist or dental hygienist can also review proper nutrition for dental and overall health and make recommendations for mouth guards to protect kid's teeth when they begin playing sports.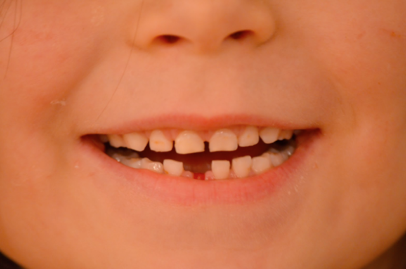 When a child is about 6 years old, his/her teeth will begin to come loose. Let your child wiggle the tooth until it falls out on its own. This will minimize the pain and bleeding associate with a lost tooth.
Obviously, let your child know that the Toothfairy doesn't pay much – if at all – for rotten teeth!
Parents: The Best Role Models
Parents play an important role in their children's dental health. They need to reinforce good oral hygiene habits such as brushing and flossing at home with their children. However, the most important impact on your children will come from observing your own good habits. Lead by example and demonstrate how important your children's teeth are to their overall health and continuing quality of life. Optimal dental health translates to a healthier child in general and impacts their future habits and livelihood.
At Dentistry on King, we offer treatment under Medicare's Child Dental Benefits Schedule (CDBS) for eligible children (children aged 2 to 17 years that are of families receiving Family Tax Benefit Part A or other Government payments).
Eligible children can get up to $1000 worth of general dental treatment (including checkups, x-rays, preventative fissure seals, fillings and extractions etc) over 2 consecutive calendar years. All children that are eligible for this scheme are BULK BILLED by us here at Dentistry on King so there are no out of pocket expenses for parents.
To find out more about whether your child is eligible, please call our team at Dentistry on King 5445 3110 or click here with your Medicare number handy.
Article Courtesy Of Health QLD see full article and more here @ healthier.qld.gov.au
https://www.dentistryonking.com.au/wp-content/uploads/2015/01/den-logo.png
0
0
Parry
https://www.dentistryonking.com.au/wp-content/uploads/2015/01/den-logo.png
Parry
2017-06-29 01:37:05
2017-09-07 21:17:20
Why should I take my child to the dentist